Free Mortgage Evaluation
---
Quick Links
---
Blog
Blog Post Categories
Announcements
(1)
Financing
(2)
First Time Home Buyers
(9)
Home Ownership
(5)
Miscellaneous
(14)
Mortgages
(3)
Real Estate
(8)
Blog Post Archives
January 2022
(1)
April 2020
(1)
March 2020
(2)
February 2020
(2)
January 2020
(2)
December 2019
(1)
November 2019
(2)
October 2019
(2)
September 2019
(2)
August 2019
(2)
July 2019
(2)
June 2019
(2)
May 2019
(2)
April 2019
(2)
March 2019
(2)
February 2019
(2)
January 2019
(2)
December 2018
(2)
November 2018
(2)
October 2018
(2)
September 2018
(2)
August 2018
(1)
October 2011
(2)

Subscribe to Blog RSS Feed
---
Mortgage Rates Expected to Remain Near Historic Lows Until 2017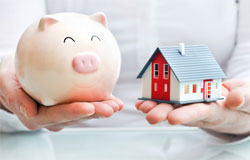 Economists expect Canadian interest rates to remain low until at least 2017. This is great news for first-time home buyers or individuals looking to refinance their mortgages or consolidate debt.
Interest Rates to Stay Low Until 2017

Analysts believe that Canadian interest rates will remain at near-historic lows as the Bank of Canada works to kick-start the economy and lift it out of a mild recession. The Canadian economy contracted in the first six months of 2015 after falling oil prices hurt business investments and the energy sector.
This prompted the Bank of Canada to make two interest rate cuts this year: the first in January and another in July. Today, the key overnight lending rate is at 0.5%. This key lending rate is important because it determines the interest rate charged to big banks and private lenders, which in turn determines the rate at which they lend to their customers.
Because of ongoing weakness in some sectors of the Canadian economy, it is widely believed that the Bank of Canada will leave its lending rate at 0.5%—at least until the first quarter of 2017.
The low interest rate environment was bolstered recently when the Bank of Canada, on October 21, said it would not cut its interest rates further. The central bank said it predicted the Canadian economy would reach full capacity by mid-2017.
While the Canadian economy has probably rebounded from a mild recession in the first half of 2015, the current economic recovery is not strong enough for the Bank of Canada to raise interest rates until probably 2017.
ZooMortgage—Vaughan's Top Choice for First Time Home Buyers
The independent, licensed mortgage agents at ZooMortgage can help those living in Vaughan, Woodbridge, and the Greater Toronto Area receive the best possible rates that work within their financial and lifestyle needs.
Whether you're looking for a first or a second mortgage, would like to consolidate debt, refinance, are self-employed or have credit, ZooMortgage will meet with you personally, discuss your options and walk you through the entire process. We work closely with more than 50 different lenders, including big banks and private lenders,
To see what kind of mortgage you qualify for, contact ZooMortgage today at 416-807-5630 and a mortgage agent will contact you back within two to three hours. Or contact us online and a mortgage agent will set up an appointment with you at your earliest convenience.
Sources:
"Analysts expect Canada to maintain interest rates until 2017" The Globe and Mail web site; September 4, 2015; http://www.theglobeandmail.com/report-on-business/economy/currencies/loonie-to-remain-weak-as-canada-us-monetary-paths-diverge-poll/article26204029/.
"Bank of Canada says economy has rebounded, holds interest rate steady," Globalnews.ca, October 21, 2015; http://globalnews.ca/news/2290172/bank-of-canada-say-economy-has-rebounded-holds-interest-rate-steady/.

Back to Main News Page